The Marriage Game
Available June 2020 from Berkley
A high stakes wager pits an aspiring entrepreneur against a ruthless CEO in this sexy romantic comedy.
Available June 9, 2020 from Penguin Random House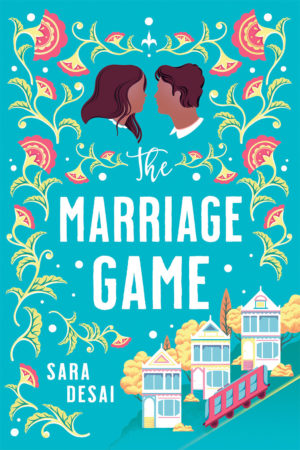 ​One of Oprah Magazine's Most Anticipated Romances of 2020!
After a devastating breakup, Layla Patel recruits her sexy office rival to help her find a husband by tagging along on a series of blind dates arranged by her father, only to discover that the man she really wants is the one she already has.

Sara Desai has been a lawyer, radio DJ, marathon runner, historian, bouncer and librarian. She lives on Vancouver Island with her husband, kids and an assortment of forest creatures who think they are pets. Sara writes sexy romantic comedy and contemporary romance with a multicultural twist. When not laughing at her own jokes, Sara can be found eating nachos.
Praise for The Marriage Game
The Marriage Game by Sara Desai
2020-05-26T17:17:06+00:00
"[An] enticing debut."
https://saradesai.com/testimonials/shereads/
"…Desai creates a believable and irresistible enemies-to-lovers story filled with flirty banter firmly rooted in her characters' backstories, inspiring readers to root for them to find not only love, but also peace and acceptance within their families. Keep an eye on this promising romance writer."
---
The Marriage Game by Sara Desai
2020-05-26T17:19:10+00:00
"…Desai creates a believable and irresistible enemies-to-lovers story filled with flirty banter firmly rooted in her characters' backstories, inspiring readers to root for them to find not only love, but also peace and acceptance within their families. Keep an eye on this promising romance writer."
https://saradesai.com/testimonials/booklist/
"This witty and delightful story about family, forgiveness, and letting go is utterly satisfying. Desai's first book will be a hit with fans of Sonya Lalli's, The Matchmaker's List."
---
The Marriage Game by Sara Desai
2020-05-26T17:24:45+00:00
"This witty and delightful story about family, forgiveness, and letting go is utterly satisfying. Desai's first book will be a hit with fans of Sonya Lalli's, The Matchmaker's List."
https://saradesai.com/testimonials/library-journal/
"Desai's delightful debut is a playful take on enemies-to-lovers and arranged marriage tropes starring two headstrong Desi-American protagonists. Rom-com fans should take note of this fresh, fun offering."
---
The Marriage Game by Sara Desai
2020-05-26T17:25:47+00:00
Publishers Weekly (starred review)
"Desai's delightful debut is a playful take on enemies-to-lovers and arranged marriage tropes starring two headstrong Desi-American protagonists. Rom-com fans should take note of this fresh, fun offering."
https://saradesai.com/testimonials/publishers-weekly/
"I fell hard for The Marriage Game from the moment I read Layla and Sam's dynamite meet-cute. It's a hilarious, heartfelt, and steamy enemies-to-lovers romance."
---
The Marriage Game by Sara Desai
2020-05-26T17:27:07+00:00
Sarah Smith, author of Faker
"I fell hard for The Marriage Game from the moment I read Layla and Sam's dynamite meet-cute. It's a hilarious, heartfelt, and steamy enemies-to-lovers romance."
https://saradesai.com/testimonials/sara-smith/
"The Marriage Game is the most delicious read! From the humor, to the heartwarming family bonds, to the off the charts chemistry, it's impossible for me to love this book anymore. I can't wait for more from Sara Desai!"
---
The Marriage Game by Sara Desai
2020-05-26T17:32:02+00:00
Alexa Martin, author of Intercepted
"The Marriage Game is the most delicious read! From the humor, to the heartwarming family bonds, to the off the charts chemistry, it's impossible for me to love this book anymore. I can't wait for more from Sara Desai!"
https://saradesai.com/testimonials/alexa-martin/
0
The Marriage Game by Sara Desai